The subtlety of great Albariños
The experience and the knowledge acquired in the area of Albarino grapes, led the selection of 12 winegrowers from the Salnés Valley to choose vineyards privileged by the quality of Albarino grapes that they produce.
There are farms with vineyards planted in some cases more than 70 years ago, in the areas of: A Carabuxeira (Sanxenxo), Padrenda (Meano), Cabeza de Boi (Méis), A Pedreira (Sisán), Castrelo (Cambados) and Lores (Meano), which grow quality Albarino grapes in the making of Chan de Rosas wines.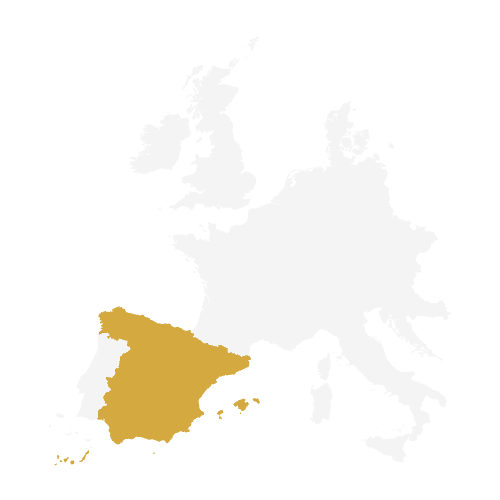 The Designation of Origin (D.O.) Rias Baixas is fully integrated into the great Atlantic region, with four full seasons.
It provides a great variance of temperature and rainfall, and is moderated by the influence of the Gulf Stream. In Winter, Atlantic storms arrive bringing heavy rainfall and with little marked differences between day and night temperatures. Spring is early and rainy. In early summer the Azores anticyclone settles over the western Atlantic, preventing the passage of atmospheric disturbances.
Rainfall is infrequent and temperatures are consistent. In this season the soils are dry and the vines become mildly stressed from the increased temperature. And because of the sandy soil that helps drainage. In autumn, just after harvest, the storms arrive again one after another, refreshing the soils and vines before winter's hibernation period.
The Rías Baixas Albariño and in particular the vineyards where the Chan de Rosas grapes grow, are located next to the Ria de Arousas Sea. The soil shallows but well-drains, formed from the decomposition of the granitic rocks. It results in a sandy soil and acidic structure. Both the location of the land and the type of soil provides the wines with a characteristic albariño notes of crisp fruits, salinity and minerality.
Practicing organic, sustainable, dry farmed
Famous winemaker of Rias baixas region
Famed producer Marcos Lojo was born in the Salnés Valley, a region of Pontevedra considered the cradle of Albariño. He spent much of his career exploring the unique terroirs and expressions of the region. He is very much an authority on Albariño. Today he is technical director overseeing the production of the wines of Premium Fincas.
For generations, the founding Families of Premium Fincas have been cultivating vines and producing quality wine in Spain's most fertile lands. Controlling over 300 small vineyards, Premium Fincas and its winemakers take pride in producing elegant wines originating from single vineyards that reflect a unique terroir.
Abariño is Spain's most notable white grape. You will find the best and most seafood-friendly styles in Rias Baixas, which is in Galicia (also known as "green Spain"). These Albariño wines will have notes of citrus, apricot, melon, and a little saltiness from the nearby ocean! They are bright and crisp, but also have an oily smooth texture from lees (which are essentially dead yeast cells).